Bach Remedies-CALM :: from $15.00 (AUD)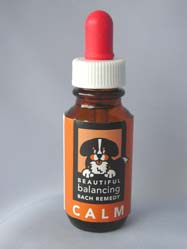 This bottle may contain the answer to many of your concerns. Especially blended by a qualified aromatherapist and qualified Bach Flower remedy expert to her own secret tried and true recipe.These recipes are completely harmless. Combined with your love and care,they have the ability to gently and positively influence negative emotional states. Research suggests the Bach Flower Remedies significantly improve the state of animals in 75-80% of cases when conventional medicine has not helped.
Calm is used for new puppies or a hyperactive dog that's eager to please, yet somehow gets so wrapped up in the enthusiasm of life that he forgets his manners and everything he's ever been taught.
Four drops in his drinking water daily and you should notice a change after a few days. Please change the water daily and add fresh drops.
Further information or assistance may be obtained by sending an email to berniescolumn@dod.com.au and Wendy will not doubt have the answer.