Bach Remedies-HAPPY :: from $15.00 (AUD)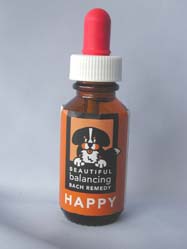 This bottle may contain the answer to many of your concerns. Especially blended by a qualified aromatherapist and qualified Bach Flower remedy expert to her own secret tried and true recipe.These recipes are completely harmless. Combined with your love and care,they have the ability to gently and positively influence negative emotional states. Research suggests the Bach Flower Remedies significantly improve the state of animals in 75-80% of cases when conventional medicine has not helped.
HAPPY-this remedy is for a dog that is perhaps mature and out of sorts. He/She may have lost a cherished companion or you may have to be away for a while and leave him/her in the care of others.Symptoms include lack of interest in food, tail between the legs and just generally miserable.
For further advice or assistance email Wendy at berniescolumn@dod.com.au