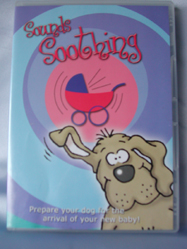 Prepare your dog for the arrival of your new baby.
The arrival of a new baby is an exciting time for the whole family... However,it can be a stressful for us and for our pets. Some dogs feel left out because they get less attention than they used to. Others are worried by the sound of babies crying.
This pack contains essential information to help make sure that your baby stays safe and your dog is contented.
The pack includes:
A CD of noises of babies and children.
Full instructions for how to use the CD to get your dog used to the sounds babies and children make.
A booklet of useful training tips to teach your dog to stay relaxed and happy at times when you are busy with your baby, such as at feeding or changing times.
The "Sounds Soothing" programme was developed by Sarah Heath and Jon Bowen, both internationally renowned veterinary surgeons who exclusively treat pets with behavioural problems.
A good investment for peace of mind and also a lovely gift for that special expectant Mum.