Cocker Bowls :: from $11.00 (AUD)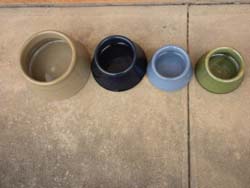 These bowls are individually handmade and fully Australian made from Australian clay and glazes. The design is for dogs with long ears- poodles, spaniels,beagles,basset hounds,dachshunds etc. The shape allows eating without the ears getting dirty and covered with food or wet from water if used as a water bowl.
Colours available natural, royal blue, light blue, dark brown,matt brown,green. Glazed inside and outside except for outside base (so it doesn't slip). Please indicate colour choice in Notes/Comments box which appears on order form and please include a second colour preference in case your first choice is out of stock.
Note: Width measurement is the inner rim of the bowl not the outer rim which is a few cms more.
Size Height Width Base
Sml 6cm 9cm 14.5cm              
Med 8cm 12cm 17.5cm
Lge 9cm 15cm 23cm