BDC Aromatherapy Shampoo Sensitive :: from $12.50 (AUD)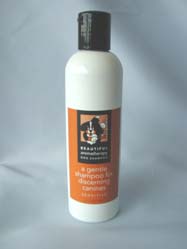 These top quality products contain only the best pure essential oils and are free from harsh chemicals and detergents. DO NOT CONTAIN AMMONIUM LAURETH SULFATE OR AMMONIUM LAURYL SULFATE.
For dogs prone to skin allergies and dermatitis. Helps reduce irritation and inflammation. Calming and balancing. Contains essential oils of lavender and chamomile. The base is 100% soap free and will maintain the skins moisture level.