BDC Aromatherapy Shampoo Normal :: from $12.50 (AUD)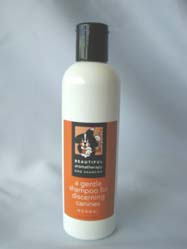 These top quality products contain only the best pure essential oils and are free from harsh chemicals and detergents. DO NOT CONTAIN AMMONIUM LAURETH SULFATE OR AMMONIUM LAURYL SULFATE.
Normal shampoo is for the care and maintenance of healthy skin and a shiny coat. A sweet,floral aroma, ideal for puppies and small dogs. Contains essential oils of geranium and rosewood.