Blossom Athpy Hair and Body Wash Indulge Geranium :: from $16.00 (AUD)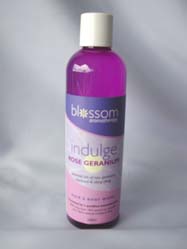 100% soap free, made from natural botanicals andtop quality essential oils to maintain the skin's natural moisture level. Try them as a luxurious bubble bath or under the showe as a body wash and hair shampoo.
Rose Geranium has a soft floral scent of pure indulgulence.