Pooch Carrier :: from $44.00 (AUD)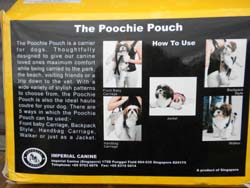 Available in red or pale pink. These small dog carriers can be used 5 different ways.
Designed to provide ergonomic comfort for 'fur-kid' and their owner. It enables pooch to be carried in a variety of positions allowing owner freedom to use both hands. A fashionable creation available in a choice of colours and sizes.
Size 3: Length 36cm, Waist 40cm & Neck 22cm Limited stock available

Size 5: Length 44cm, Waist 56cm & Neck 30cm Limited stock available
Size 3 - Female Maltese
Size 4 - Female Shih Tzu, Male Maltese, Jack Russells
Size 5 - Male Shih Tzu, Female Schnauzer
Size 6 - Male Schnauzer
This product is being discontinued. Not all sizes and colours may be available. Please email cs@dod.com.au before ordering, so we can check if your size and choice is available.If it is OK then please indicate colour in Notes/Comments box when ordering