Terracotta Pet Bowls :: from $30.00 (AUD)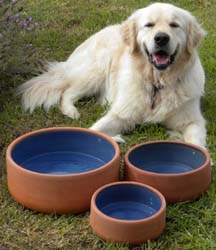 Australian handmade terracotta water bowls in 7" (18cm), 9"(23cm) and 12" (30cm)  diameters. Capacity is 7"=1.5L, 9"= 3 L and 12"= 7L Clay is local Australian terracotta and all pieces are handmade and fired here in Australia. Depth of bowls is approx 7cm for the smallest ranging to 11cm for the largest. The glazes are available in a lovely blue on the interior of the bowl. The exterior is plain terracotta. Glazes are lead free and bowls are microwave and dishwasher safe should you wish to use a smaller size for food.Postage is available for 9"and 7", but pick up only recommended for large 12". Exterior decoration is available at an additonal cost of $10 for the largest size and $5 for the medium and small sizes.Please add your preference (paw prints,word etc) in the Notes section of the order shopping cart.Extra decoration has WORD added to the catalogue number in the order box.
There is a waiting list already for these and a limited number have been ordered before larger quantities are ordered. Please also look at other styles of bowls elsewhere on the site which are stoneware and will be glazed all over in blue,green, ochre brown, black and natural (as seen in pictures).
Let's support an Australian business and buy Aussie and keep jobs here. The quality of these bowls is very good and far superior to the imported ceramic bowls from overseas. Pets actually prefer to drink water from terracotta bowls as the water stays clean, pure and cool with no metallic after taste as is sometimes the case with stainless steel bowls and plastic can also taste awful.
Any queries please email cs@dod.com.au or phone 02 94161472.