Glazed sml shallow saucers :: from $10.00 (AUD)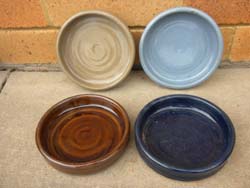 Individual handmade all Australian product and materuals. Approx 10cm (4") diameter. Suitable for cats, birds, chihuahuas or in vivariums with reptiles, tortoises etc.
Colours available are dark brown, royal blue, natural, and light blue. Please indicate colour choce in Comments/Notes box when ordering.