BDC Aromatherapy Shampoo Medicated :: from $12.50 (AUD)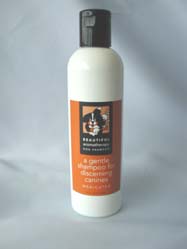 These top quality products contain only the best pure essential oils and are free from chemicals and detrgents. DO NOT CONTAIN AMMONIUM LAURETH SULFATE OR AMMONIUM LAURYL SULFATE.
Medicated Shampoo- an antibacterial shampoo for the treatment and prevention of flea bites and minor skin sores, with a fresh lemon aroma. Contains essential oils of eucalyptus,cajeput and lemongrass.